CV Writing Services.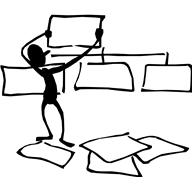 Before you get to the interview stage you are going to need a powerful CV. Have you considered employing CV Writing services?
You can write it yourself of course but in our experience having one written for you by the CV Centre will bring in more interviews and quicker even in this difficult employment market.
CV Writing services are surprisingly inexpensive and are guaranteed to be more successful than if you wrote it yourself. You can even leave it to us to circulate it for you. The CV Centre can do the hard work for you. You can relax and wait for the interview invitations to come rolling in.
We even offer you a FREE CV Review Service so you can try before you buy.

Why Use a Professional CV Service?
With hundreds of Resumes & CVs to plough through, an employer won't initially spend more than about 30 seconds looking at each one. The secret of our service lies in knowing what to put in, what not to put in, and what kind of a spin to put on your CV, to ensure yours will stand right out from the crowd - to give you the very best possible chance of getting the job you want. There really is no substitute for taking advantage of in-depth professional experience and expertise.
---
Why Choose The CV Centre?
It is the UK's leading CV service and, with fees starting at just £32.50, we're also by far the most competitively priced. The advantages of a cleverly written and powerfully-presented resume are obvious. Our talent is to help you to sell your talents, and The CV Centre's service is supported by both our 100% Money-Back Guarantee and our 100% Satisfaction Guarantee in addition to numerous outstanding Testimonials from delighted clients.
Quite simply, if you're not 100% happy, we will revise your CV until you are. Customer service is our top priority - always has been and always will be. And, if you're still not happy, we'll simply cancel your order immediately and refund your money accordingly.

To find out more about CV Writing services and how to order click here